Once your wedding is fixed people start off rambling about the perfect bridal Kanjeevaram saree if you have to wear one.  There is enough and more googling done, photographs and videos of other weddings in the family revisited and the people around you arrive at a conclusion as to how your wedding saree should be. This post helps you to get some pointers on being a perfect south Indian bride.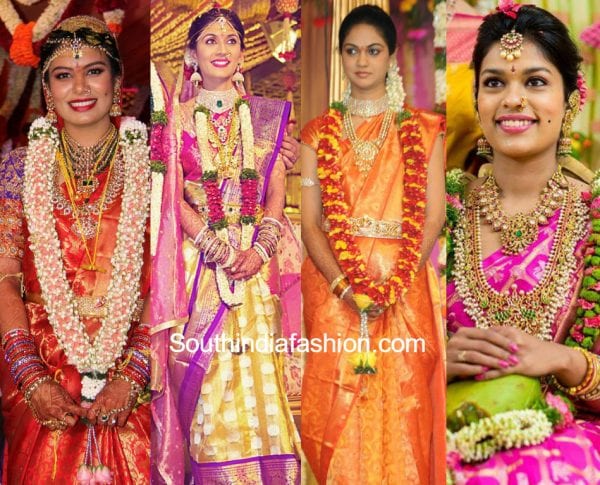 >
Predominantly the bridal saree is suggested to be in shades of red and maroon. The main reason being the fact, that as a bride you need to look unique and bright. So when you are going to shop for your bridal saree keep all these in mind.
Try to get a saree that is a little different and unique from most other sarees you have seen. You can try these by either picking a saree with a heavy border in gold or even go for a contrast border with complete zari all over the saree. This makes the saree look rich and in turn sets you apart as the bride.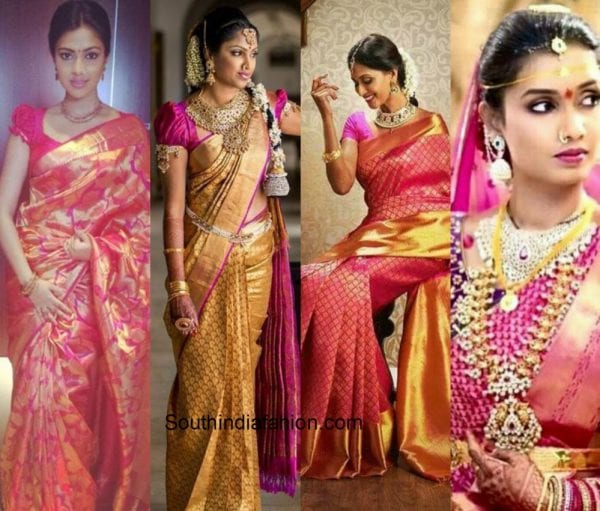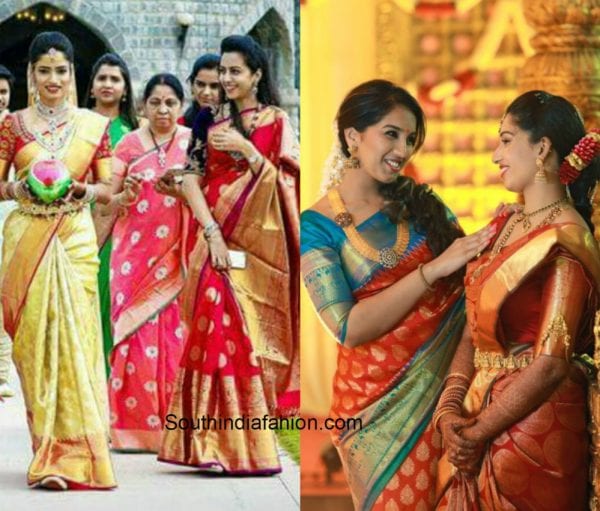 Pick sarees in shades of red, pink or gold if you are not a high risk taker. These shades of sarees look great on all skin tones and that is the most important thing. Do not pick a saree just because it is grand. Ensure that suits your skin tone by checking it under all kinds of light (read natural, yellow and white light)
Shades like deep purple, green and yellow also look fabulous when you choose the right hue and shade.
Once you pick your saree, pay equal importance to your blouse as a bad blouse can ruin the entire look of the saree.  Elbow sleeve length works great as it shows the heavy borders on the blouse or whatever heavy embroidery you intend to do on the blouse. If you are not someone who is comfortable with elbow length sleeves then short sleeves works equally well. Ensure that you add the needed bling in your blouse too.
Once you have picked your saree pick the jewelry based on your saree. Antique gold and diamond jewelry makes your Kanjeevaram bride look perfect.  Try a complete antique gold or a complete diamond look to make yourself totally stand apart as a bride.  It is not necessary to wear all the pieces of jewelry you own all the time. Pick those pieces that would complement your saree.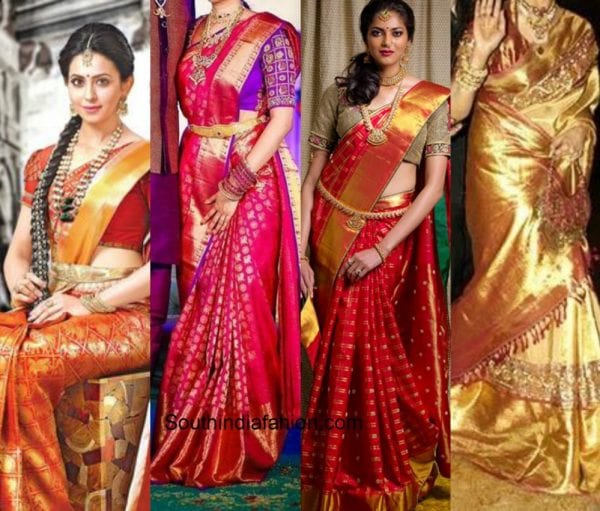 After all this invest in a good makeup artist and stylist who can bring your look together. Bad makeup and draping can make the whole look topple and we do not want that. So do trials before the wedding to ensure you know what you will look like on your big day.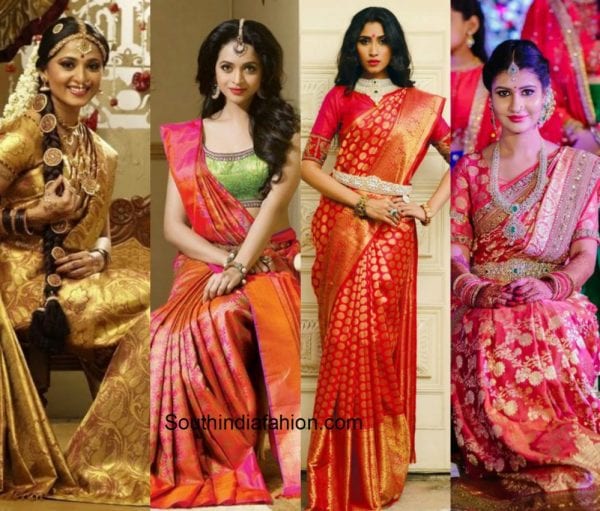 Wishing all you beautiful brides to be good luck!!
Source : http://www.southindiafashion.com/2017/02/look-perfect-south-indian-bride.html